The long-awaited series about the actress's murder Daniella Perezdaughter of Gloria Perez, is scheduled to premiere in 2022, on the HBO Max channel. With the general direction of the filmmaker Tatiana Issa and photography direction Gustavo Nasrthe documentary series "Daniella Perez" intends to tell how the 22-year-old actress was stabbed to death in 1992 by William of Padua, her co-star in the soap opera "De corpo e alma", written by Glória. Guilherme had help from his then wife, Paula Tomaz.
The most obvious thing would be to think that a production like this, about a murder that mobilized the country and that still causes commotion in people, could be performed by TV Globo, the broadcaster in which Glória Perez has worked for decades. But no agreement was reached with the author regarding the narrative line that would be taken. Gloria demanded that the killers not be heard. Paula was sentenced to 18 years and six months; Guilherme, to 19 years in prison. The former couple has been free since 1999.
The five-episode series, already recorded and in the final editing stage, has testimonies from Fábio Assunção, Claudia Raia, Marieta Severo and the victim's then husband, Raul Gazolla. even the singer Robert Charles, always averse to interviews, agreed to speak for the production. Its recording took place on the eve of last New Year's Eve. Roberto is a personal friend of Glória and has several of her songs as the soundtrack for the soap operas.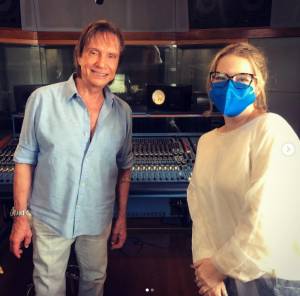 Roberto Carlos and director Tatiana Issa Instagram/Reproduction
Tatiana, who lives in the United States, came to Brazil just to play the project. Because he had a close relationship with Glória, he managed to convince her to open her trunk with photos and newspaper clippings of the time, as well as VHS recordings, in which she brings a detailed overview of all the national and international media coverage of the case. Glória's testimony alone took several days and, given under strong emotion, moved the entire set. According to a member of the team who asked not to be identified, since everyone signed a confidentiality agreement, Glória spread all the material around the room and told in great detail everything that her memory allows.
Still during filming, Tatiana said on social media: "This series deals with important topics such as femicide, blaming the victim, the media circus, the details of the crime, among others, but above all it tells the story of a mother's struggle, who even after 30 years, she continues to fight like a lioness. Let's go hand in hand to give our Dany the justice she so deserves."
Gloria Perez holds the photograph of her daughter, Daniella Perez Oscar Cabral/VEJA Continues after the publicity