Another 415 children were injured during the war.
Since the end of February, 226 Ukrainian children have died at the hands of the invaders / photo from UNIAN (Taras Kashuba)
Since the beginning of the full-scale invasion, the Russian military has killed 226 Ukrainian children.
This was reported by the Office of the Prosecutor General in his Telegram.
"As of the morning of May 9, 2022, 641 children suffered in Ukraine as a result of the full-scale armed aggression of the Russian Federation. At the same time, according to official data, 226 children died and 415 were injured. These figures are not final, as work continues to establish them in the places of jurisdiction active hostilities in the temporarily occupied and liberated territories.
Most victims among children in the Donetsk region – 139, Kyiv – 116, Kharkiv – 99, Chernihiv – 68, Kherson – 46, Mykolaiv – 44, Luhansk – 44, Zaporozhye – 28, Sumy – 17, in Kyiv – 16, Zhytomyr – 15.
Read also: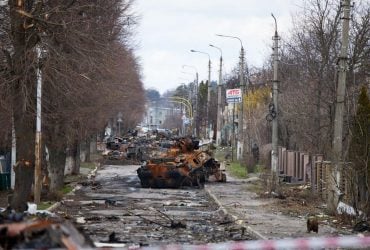 In particular, on May 8, it became known about the death of a 13-year-old girl, who was in one of the cars of a convoy of private cars, fired on May 4 by the invaders in the Chuguevsky district of the Kharkiv region.
May 7 as a result of shelling by enemy troops with. Belogorovka and with. Shipilovo, Lugansk region, two girls aged 9 and 13 were injured.
In addition, as a result of daily bombardments and shelling by the armed forces of the Russian Federation of Ukrainian cities and villages, 1,635 educational institutions were damaged. At the same time, 126 of them were completely destroyed.
You may also be interested in the news: