For the sake of the picture, the occupiers staged a closed procession in the cordon of the armed Russian military.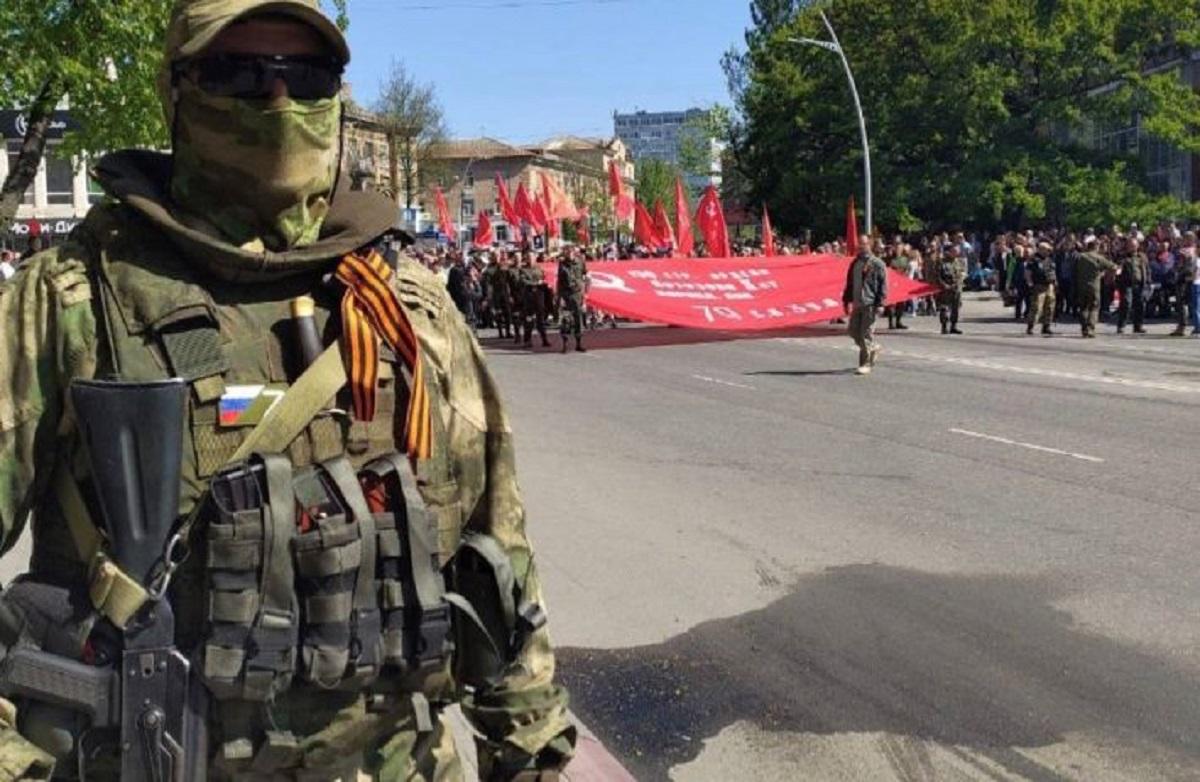 In total, 3 thousand people arrived in the city / photo ria-m.tv
For a propaganda march in the temporarily occupied Melitopol, Zaporozhye region, the Russians brought to the city thousands of people from the surrounding villages, Crimea and Lugansk.
This was reported by ria-m.tv.
"Melitopol has never seen such a coven. In order to make a picture for the propaganda media, people from the surrounding villages, Crimea and Lugansk were brought to Melitopol for the procession. Residents of Melitopol simply flooded the editorial office with screenshots of photos of people brought to the city," the newspaper writes.
In particular, it cites as an example a young man named Artem, who came from a village in the Melitopol region.
"Having put on the St. George ribbon, he marched around Melitopol today. And our readers remember him from recent history – live with his friends, including from Russia, he trampled on the textbook of the Ukrainian language. Very soon, the teenager was explained that this cannot be done , and his apologies appeared on the same channel," the journalists say.
Photo ria-m.tv
They also found in the photo a resident of Sevastopol, called in the material Nadezhda Zalunina, with her daughter Evgenia.
"The governor from the occupiers, Yevgeny Balitsky, brought his entire family from Crimea. Today, residents of Lugansk also came to the city at a show called "Immortal Regiment". Residents of Mirny and other adjacent villages were brought to Melitopol by bus. In total, 3,000 people arrived in the city "They lined up in a friendly queue in the park for soldiers' porridge. Russian soldiers and disguised Cossacks were also driven to the rally. The column was cordoned off by armed military men with machine guns. Moreover, the military made sure that strangers did not penetrate the column. All in the spirit of the NKVD ", – notes the publication.
Photo ria-m.tv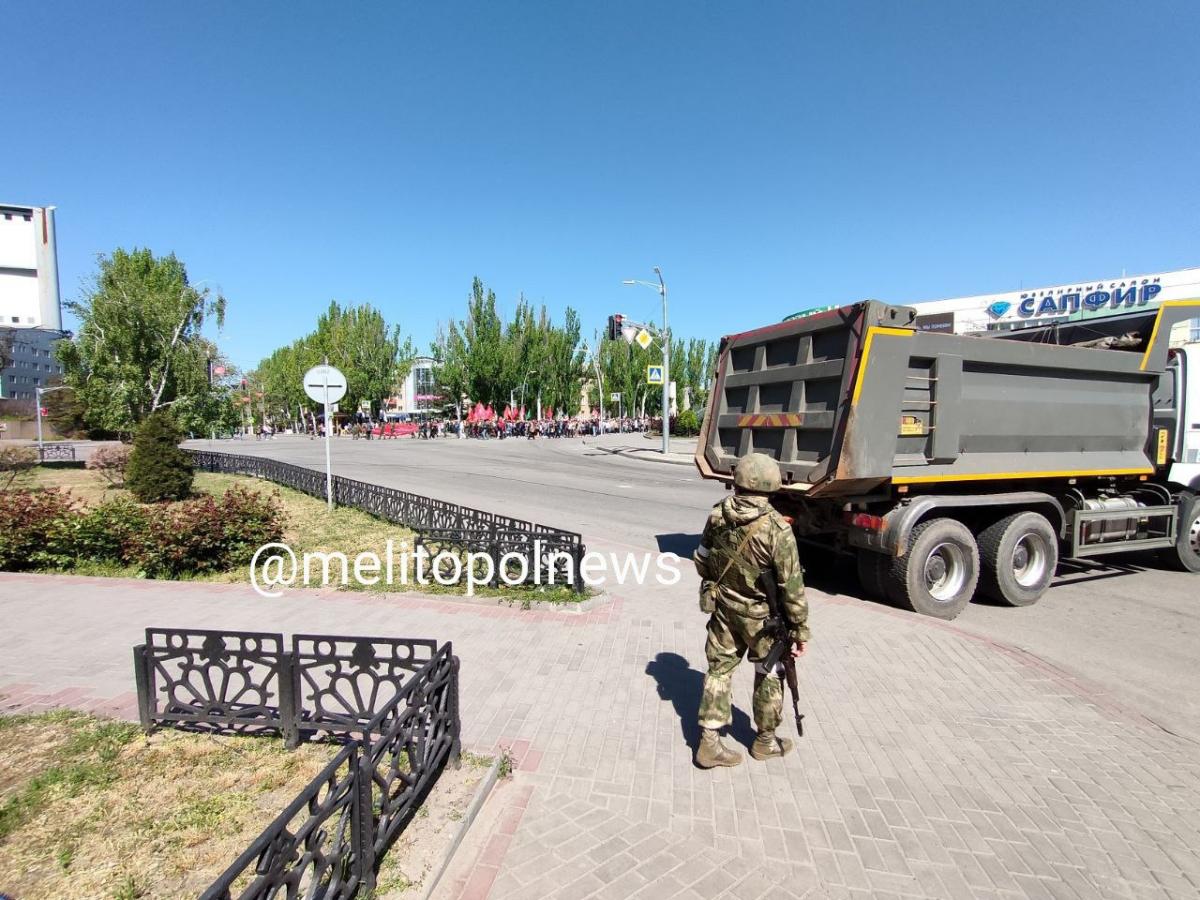 Photo t.me/melitopolnews1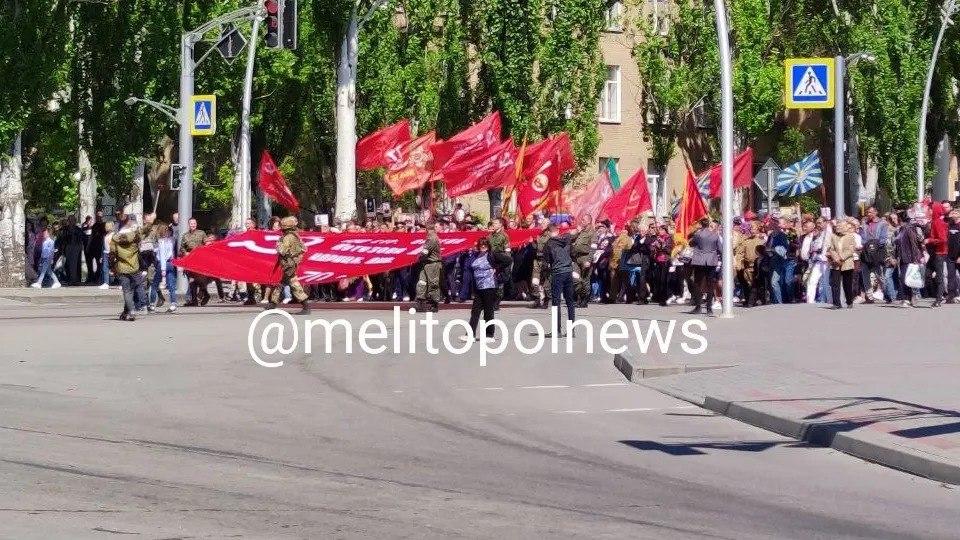 Photo t.me/melitopolnews1
As UNIAN reported earlier, the Commissioner of the Verkhovna Rada of Ukraine for Human Rights, Lyudmyla Denisova, appealed to the UN Commission to investigate human rights violations due to the occupiers forcing children in Melitopol to wear St. George ribbons and learn "rhymes" about the war.
And the mayor of Melitopol spoke about the difficulties of evacuation from the captured city.
You may also be interested in the news: