The enemy resorts to such actions on the temporarily occupied territory of the Zaporozhye region.
Occupants take away documents from Ukrainians to force them to leave on May 9 / photo by REUTERS
The occupiers take away the documents from the Ukrainians in order to force them to go to the ceremonial events on the occasion of May 9.
The General Staff of the Armed Forces of Ukraine reports this on its Facebook page.
"On the temporarily occupied territory of the Zaporozhye region, there have been cases of seizure of personal documents from the local population without good reason, the return of which will take place on the condition that the latter participate in the celebrations on the occasion of the Victory Day," the report says.
On the territory of the temporarily occupied Autonomous Republic of Crimea, the enemy carried out active preparations for holding solemn parades.
Read also: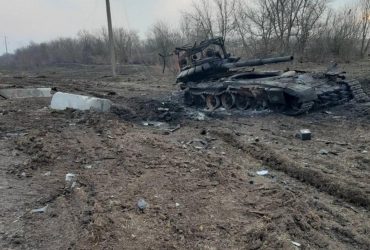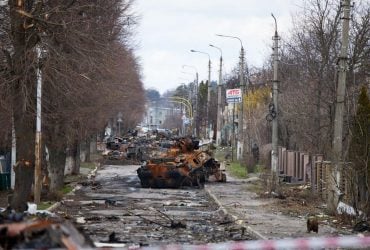 At the same time, the situation in the Transnistrian region of the Republic of Moldova has not changed. Local armed formations and units of the operational group of Russian troops continue to be on alert
Aggravation in Transnistria: what is known
As UNIAN reported, on April 25 and 26, explosions took place in the building of the "Ministry of State Security of the PMR" in Tiraspol, in a military unit in the village of fences, and the tower of the Mayak radio and television center was also blown up.
The Main Intelligence Directorate of the Ministry of Defense of Ukraine called these events a provocation organized by the Russian special services. Ukrainian intelligence also reported that Russian troops intend to launch a missile attack on Transnistria and are preparing provocations in this region for the May holidays.
Earlier, the Russian Federation stated that during the second stage of the so-called "special operation" in Ukraine, the Russian army plans to establish full control over the Donbass, which will allow the creation of a land corridor to Crimea, and control over the south of Ukraine, which will provide the "Russian Armed Forces with another exit to Transnistria , where there are facts of oppression of the Russian-speaking population".
According to the General Staff of the Armed Forces of Ukraine, the Russian troops stationed on the territory of the Transnistrian region of Moldova are on full combat readiness. Families of officers of the operational group of the Russian Federation in Transnistria are preparing to evacuate.
According to NSDC Secretary Alexei Danilov, Moldova may become one of the two countries that Russia plans to capture in the future. And the Ministry of Defense of Ukraine assumes that Russia is capable of using Transnistria according to the Belarusian scenario.
You may also be interested in the news: