The defenders of Mariupol, risking their own lives, continue to demonstrate impressive heroism.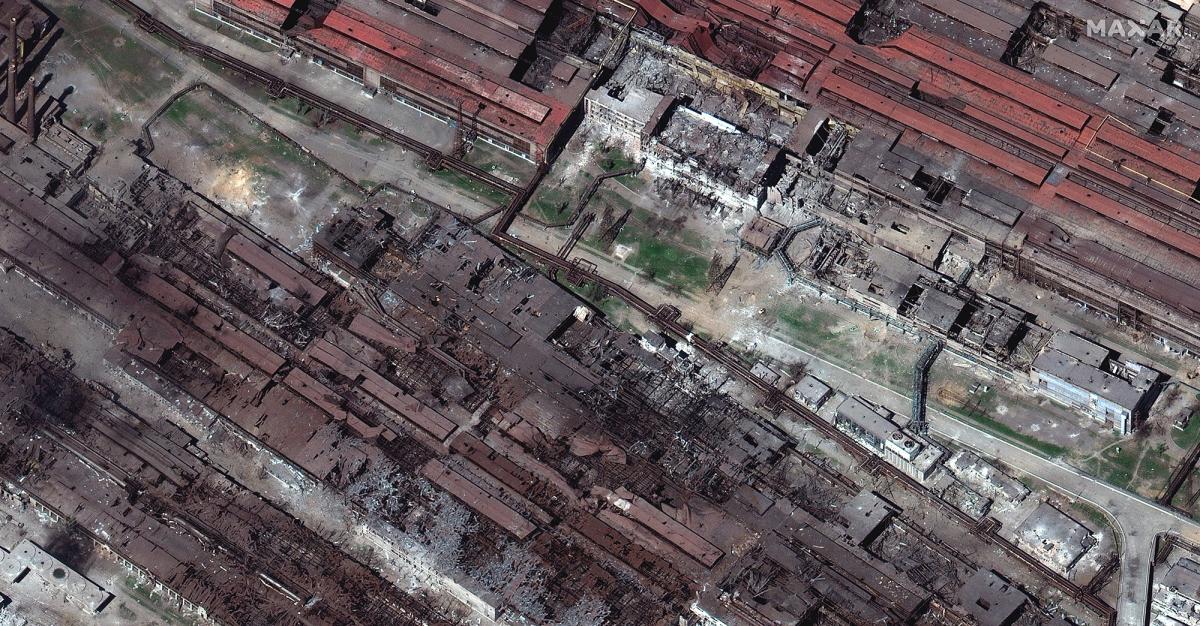 Ukrainian soldiers continue to derail the enemies at Azovstal / photo by Maxar Technologies
The defenders of Mariupol, after the Russian occupiers broke into the territory of Azovstal, were able to mine certain sections of the plant.
This was announced by the adviser to the mayor of Mariupol, Petr Andryushchenko, and showed a video of the desperate operation.
"There are no words to describe the heroism and professionalism of our defenders of Mariupol. After the understandable tactics of using evacuation by the occupier to strengthen positions, our defenders desperately, despite the risk, carried out mining of weak areas," he wrote.
According to him, this is the second story that struck even the enemies.
"This is the second story that even struck the occupiers. The first time, before the silence in the first wave, our defenders jumped out on two tanks outside the gates of Azovstal and pulled in a third one, which was stuck outside. The occupiers did not have time to do anything. Bow to the ground to our Defenders of Mariupol. We are all indebted to them," Andryushchenko said.
Read also:
As UNIAN reported earlier, Russian troops surrounded Mariupol in the early days of a large-scale invasion of Ukraine.
On May 1, the evacuation of civilians who were hiding in a bomb shelter at Azovstal began.
On May 3, Russian invaders began to storm the plant. The enemy used armored vehicles and tanks, tried to land troops with the help of boats and involved a huge amount of infantry. Also, the rashists were able to break into the territory of Azovstal.
Now the Russians continue to intensively shell Azovstal, there were more than 25 enemy sorties during the night, including from bombers. The enemy is working with cannon artillery, tanks, mortars, the infantry of the invaders is trying to storm the territory of the plant, and enemy snipers are also working.