Taís Araújo with her godmother Solange, aunt Heloísa and her faithful squire and mother Mercedes Reproduction/Instagram
To get in the mood for Mother's Day, celebrated this Sunday, 8, Tais Araújo starred in a cute scene alongside women she calls "the mothers of her life". They are: your godmother Solangethe aunt Heloísa and his faithful squire and mother Mercedes"the one that made it possible for me to have all these other women who are also my mothers".
"Being able to have them in one place and being able to show my affection, love and affection in the form of a gift was one of the most special moments for me," she said.
Sitting on the sofa next to her inspiring muses, Taís recorded a video in which she praises the possibility of having them around. "Three women raised me. If I don't have my mother around, I have my aunts. My mother started working very early, and she worked for many years. And many bad things that I could have gone through and I didn't, it was because she was on my side," said the actress in a video, visibly moved.
At 43 years old, Taís is the mother of João Vicente10 years, and Maria Antoniaof 7, from her marriage to Lazaro Ramos.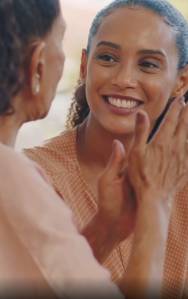 Taís Araújo and mother Mercedes Reproduction/Instagram Continues after advertising