Both politicians said they would help Ukraine defend its freedom and democratic values.
Johnson assured that he would continue to help Ukraine defend itself \ REUTERS
British Prime Minister Boris Johnson, in his congratulations on Victory in Europe Day, mentioned Russia's war against Ukraine and promised to support the Ukrainians.
Johnson's video message published on Twitter.
"On Victory in Europe Day, when we remember those who gave their lives for our freedom and future, we also think of those who died or were injured as a result of Russia's illegal invasion of Ukraine. Our respect and gratitude to those who fought in previous conflicts strengthens our resolute determination to support the Ukrainian people in their struggle. We will not forget the contribution of different generations for the sake of peace and freedom in Europe," the British Prime Minister said.
Read also: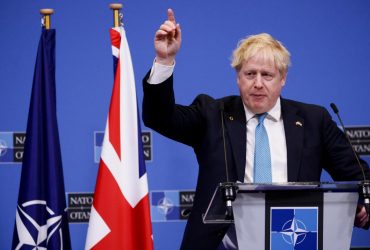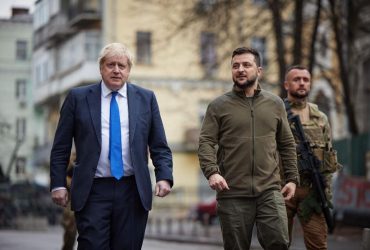 In addition, today German President Frank-Walter Steinmeier said that the war of the Russian Federation against Ukraine put an end to the idea of ​​a common European home, voiced by Soviet President Mikhail Gorbachev.
Steinmeier made such a statement during a speech at the federal congress of German trade unions DGB, reports Radio Rur.
"Today, May 8, the dream of a common European home has failed. A nightmare has taken its place. This May 8 is the day of the war," he said.
Steinmeier also emphasized the need to defend democracy: "We were too sure that peace, freedom, prosperity were a matter of course. But this war brutally makes us understand that we must protect our democracy – inside and out!"
"The attack on Ukraine is also an attack on the idea of ​​liberal democracy and the values ​​on which it is based: freedom, equality, respect for human rights and human dignity," the German president added.
He also called "an insidious and cynical abuse of history" Putin's attempts to draw a parallel between the victory over the Third Reich in 1945 and the current aggression against Ukraine.
Recall that recently tensions arose in relations between Kyiv and Berlin due to Kyiv's refusal to visit Steinmeier because of his many years of close relations with Russia.
As UNIAN reported earlier, on May 5, Steinmeier had a telephone conversation with President Volodymyr Zelensky, during which he assured of Germany's full support for Ukraine. According to Steinmeier's press secretary, all misunderstandings were arranged and Zelensky invited the German president to Ukraine.
You may also be interested in the news: