Rashism was created to modernize the Russian imperialist ideology, the expert noted.
The absorption of Ukraine and Belarus by "Great Russia" is at the center of the ideology of rashism, the expert shared / photo REUTERS
At the center of the ideology of Russian rashism is the takeover by "Great Russia" of Ukraine and Belarus.
Not only Russian President Vladimir Putin had a hand in creating this ideology, said Stanislav Kulchitsky, chief researcher at the Institute of History of Ukraine of the National Academy of Sciences, in an interview with Obozrevatel.
In his opinion, rashism was created in order for the Russian imperialist ideology to be modernized.
"….I would not even call this ideology Putin's, because many people had a hand in it … Moreover, at the center of this ideology is the absorption of Ukraine and Belarus by Great Russia …", the expert noted.
Read also: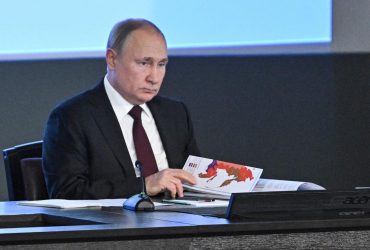 Recall that Russian troops invaded Ukraine early in the morning on February 24.
The enemy first dropped bombs on military facilities, and then attacked civilians, in particular, in Kyiv, Kharkov, Chernigov, Zhytomyr, Odessa, Lvov, Nikolaev and Mariupol.
More than 20,000 people have died in Mariupol alone, according to Ukrainian authorities.
In early May, Mikhail Podolyak, an adviser to the head of the Office of President Volodymyr Zelensky, said that Russia had officially become the author of rashism, a new reactionary and misanthropic ideology.
You may also be interested in the news: