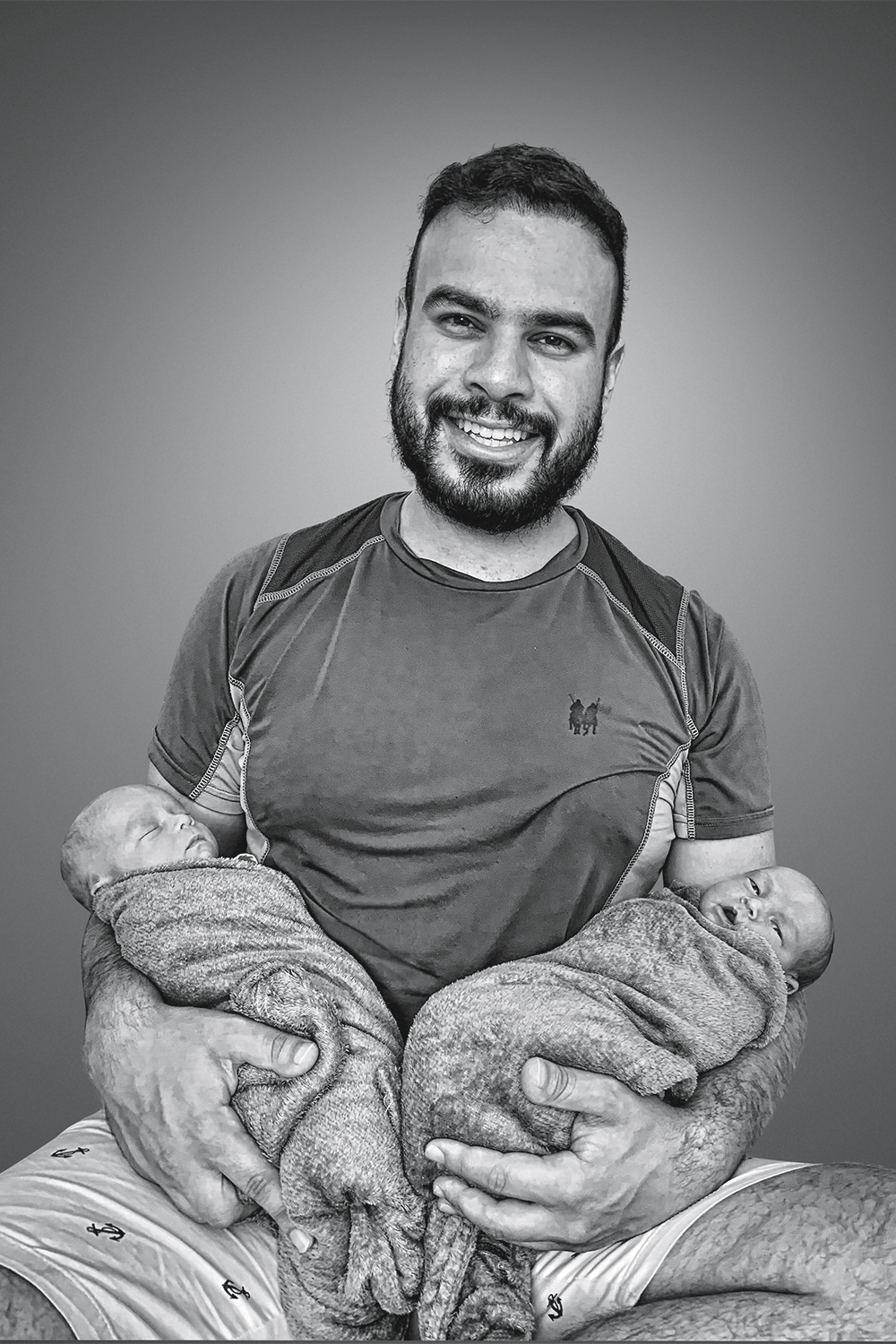 Gustavo Catunda – ./Personal archive
I met my husband at the engineering school in Brasília. A year later, in 2011, we got into a serious relationship, after several relationships on both sides with women. I was 19 years old, and already at that time, I was cultivating the plan to have children later on. For homosexuals, however, forming a family is still not seen so naturally, even though the world has evolved and many gay couples are now fathers or mothers in Brazil. My own relatives found it strange. But we continued on, facing first of all the practical challenge that arises in cases like ours: which way to go to get there? One option was adoption and the other, surrogacy. The journey turned out to be quite different from what we had imagined and, three months ago, my life was completely transformed by Marc and Maya, conceived in an unprecedented way in Brazil.
At the end of 2020, I talked to a cousin about the possibility of her carrying our baby in her belly. She got emotional and agreed on the spot, much faster than we expected. The next step was to go after an international egg bank, a path taken by many Brazilians in the same situation. In June 2021, I was about to take a trip when the contract for the purchase of eggs arrived, which I decided to sign on my way back, calmly. And behold, while waiting for the flight home, I received a message from my lawyer saying that a new Brazilian resolution had changed the rules of the game. From there, the use of eggs from close relatives would be allowed, as has been the case for years in countries like the United States. The idea of ​​having a child with genetic material from someone in my own family moved me so much. And that person was my sister.
Our story, in addition to being unique, has a curious plot: my sister, although she loved the idea, was not prepared to get pregnant at 21 years old. Then came the solution. The eggs would be hers, the sperm from Robert, my husband, and the child would be borne by my cousin, who supported us from the beginning. And so, in a stroke of luck, within twenty days we received the positive test. My cousin was pregnant, a pleasurable process that we follow on a daily basis. It was not easy. There were times when we suffered from the distrust of people around us. They were surprised and questioned whether we would have the right to the baby. Even in the health system, we come across professionals who are unprepared to deal with the case. We feel in our skin how difficult it is to digest an idea that is still new. We went with my cousin to appointments, and they just wanted to let one of us into the room—and it had to be the father. Fortunately, that has changed over the months. In one of the exams, we found out that we were going to be the parents of twins, a boy and a girl.
On the day of delivery, the nervousness took over everyone, such was the expectation involved. Marc and Maya were born premature, at 35 weeks. Marc was almost dead and needed three heart massages before he was revived. Those few seconds felt like endless hours to me. Now, they're both great, as am I, immersed in this adventure that is fatherhood, which I've always dreamed of. We don't sleep, we don't eat, we can barely breathe, but the intensity of the experience makes up for it all. It's an emotion that doesn't end. In the recent past, an arrangement like this was rare and almost unheard of, a taboo. But the world keeps turning, thank goodness. May our history help more people to break the doors of prejudice.
Gustavo Catunda in a statement given to Duda Monteiro de Barros
Published in VEJA of May 11, 2022, issue nº 2788
Continues after advertising