The history of medicine is marked by the incessant search for methods capable of combating excess body weight. The famous Greek physician Hippocrates (460 BC-377 BC) was right to spread the idea that a balanced diet and frequent physical activities are fundamental allies against obesity, but he was wrong to defend the indefensible in today's eyes – the use of laxative and inducing substances. of vomiting. Many years later, an Italian professor of medicine, Sanctorius Sanctorius (1561-1636), would spend much of his life sitting at a weighing machine to find out how much he gained after each meal, anticipating, albeit anecdotally, the science of metabolism that would appear in the 20th century and, why not, the obsession with losing weight.
A topic that has long been the subject of discussions in the health field, obesity has been increasingly the target of studies from different medical specialties and the pharmaceutical industry. In the world, the number of carriers of the disease tripled between 1975 and 2021, reaching 1 billion people, according to the World Health Organization (WHO). In Brazil, the incidence has doubled in seventeen years. Data like these explain why an announcement made a few days ago by the American pharmaceutical Eli Lilly caused noise and interest in the scientific community. According to the company, a new drug was able to reduce the weight of obese people by more than 20% during a clinical trial that lasted 72 weeks. In phase 3 trials — therefore, well advanced — 2,539 participants received the substance tirzepatide. According to the final results, their weights dropped by between 16% (at the minimum dose of 5mg) and a staggering 22.5% (15mg).
The research used what the market calls the gold standard for obtaining scientific evidence: it was a double-blind randomized study, which means that participants and researchers did not know who was taking the drug or the placebo. "We have entered a new era of obesity care", celebrated, in an interview with VEJA, Nadia Ahmad, senior medical director at Eli Lilly. "We hope that innovative treatments continue to advance, helping people live their lives to the fullest." As is often the case in pharmaceutical development, the discovery of the benefits of tirzepatide is the result of a combination of several factors. Among them, the persistence of the researchers and, admittedly, a certain dose of luck.
In studies conducted over the past twenty years, scientists have noted that, at certain dosages, drugs targeted at type 2 diabetes helped people with obesity, and even those without the condition, lose weight. This is because the drugs act on hormone receptors produced by the pancreas and intestines, whose primary function is to regulate the body's energy control and glucose metabolism, in addition to interfering in areas of the brain that control appetite (see box). . Despite not yet having approval to be used for this specific purpose — to eliminate unwanted extra pounds in obese patients — Eli Lilly's drug is the closest to the 30% weight loss achieved, on average, by bariatric surgery, popularly known as stomach reduction. Medical experience shows that this technique is effective and will certainly continue to be used for years to come. It, however, requires complex preparations, which even include psychological follow-up, and, like any surgical procedure, carries some risks. Replacing it with a single drug, therefore, would represent a relief and a possible revolution for thousands of people.
FAT – Appetite: Poor diet increased disease rates – iStockphoto/Getty Images
Tirzepatide may indeed bring breakthroughs. Currently available medications allow weight reduction between 10% and 15%, relevant results not only to fight obesity, but also to prevent cardiovascular disease, type 2 diabetes, joint problems and complications associated with the disease. In other words, weight reduction above 20%, as tirzepatide promises, would represent a step forward. However, it is necessary to be calm. As authorization from regulatory agencies such as the US Food and Drug Administration (FDA) is still required, the drug will not be available in the short term. "It is a new perspective, because no other medication has achieved similar results", says the president of the Department of Obesity of the Brazilian Society of Endocrinology and Metabology (SBEM), Maria Edna de Melo. "But you have to wait for the final studies and know that they will be high-cost drugs. We have no idea of ​​the price of tirzepatide."
Continues after advertising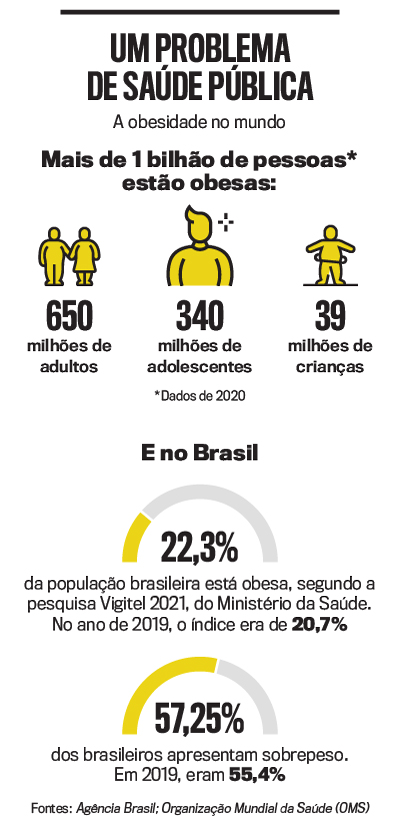 The most recent medication ever introduced to the market for treatments against obesity was semaglutide, present in the drug Wegovy, from the Danish pharmaceutical company Novo Nordisk. It was approved by the FDA in 2021 after a fourteen-year hiatus with no new options to treat the condition. At a dose of 2.4 mg of injection given once a week, Wegovy reduced the weight of obese people by 17%. In Brazil, the substance was submitted to analysis by the National Health Surveillance Agency (Anvisa), which has not yet issued a final opinion. "The mechanism of action is what differentiates the new generation of drugs from the old ones", points out Priscilla Mattar, medical director at Novo Nordisk. "In addition, they have an interesting effect on food intake, being able to reduce it by up to 35%."
In the not-so-distant past, drugs to treat obesity took a heavy toll on their users. Amphetamines began to be used in the 1940s and 1950s as appetite suppressants, but they had indigestible side effects such as addiction, anxiety and cardiovascular problems. Still, they continued to be ingested for a long time. In Brazil, the class of this substance has been banned by Anvisa since 2011, a measure reinforced by the Federal Supreme Court (STF) in 2021. The new drugs are not free of side effects, but the medical literature shows that they are mild compared to what the drugs used to do. medicines from the past. Among the major adverse events reported by participants in recent studies are nausea, diarrhea, vomiting, and constipation.
IN THE ACADEMY – To sweat: Hippocrates, the father of medicine, warned that exercise is vital – E+/Getty Images
Obesity has been reported since antiquity. Its first representations are 35,000 years old, as revealed by archaeological findings. In ivory sculptures, first presented in 2009 in the scientific journal Nature, Stone Age peoples made corpulent female figures, an indication, according to scientists, of the ideal of a full body that would better withstand conditions of extreme cold. Throughout history, however, the perfect body model began to exclude those who had extra pounds. With the advent of mass media and advertising, the very thin came to be admired and envied. At the same time, poor diet and a sedentary lifestyle — even stimulated by technological development — have produced millions of fat people in practically all countries.
Until recently, science did not understand all the nuances of exaggerated extra pounds, a health problem essentially linked to hormonal issues and that, in many ways, is independent of the will of its patients. This was not known before. "We must recognize that obesity is a complex disease and stop thinking that it is the individual's own fault", says Cintia Cercato, endocrinologist and president of the Brazilian Association for the Study of Obesity and Metabolic Syndrome (Abeso).
Obviously, regular exercise and a balanced diet, just as Hippocrates suggested two millennia ago, prevent and eliminate excess weight, but there are situations in which only medicines help – and it is not appropriate to feel guilty in the face of this finding. For these cases, the new generation of drugs brings doses of hope. Obesity has long ceased to be an issue linked to aesthetics. It is, above all, a health issue, which often requires medicine.
Published in VEJA of May 11, 2022, issue nº 2788
Continues after advertising