The Kremlin mouthpiece twisted the tube in front of the camera and showed where the sight should be.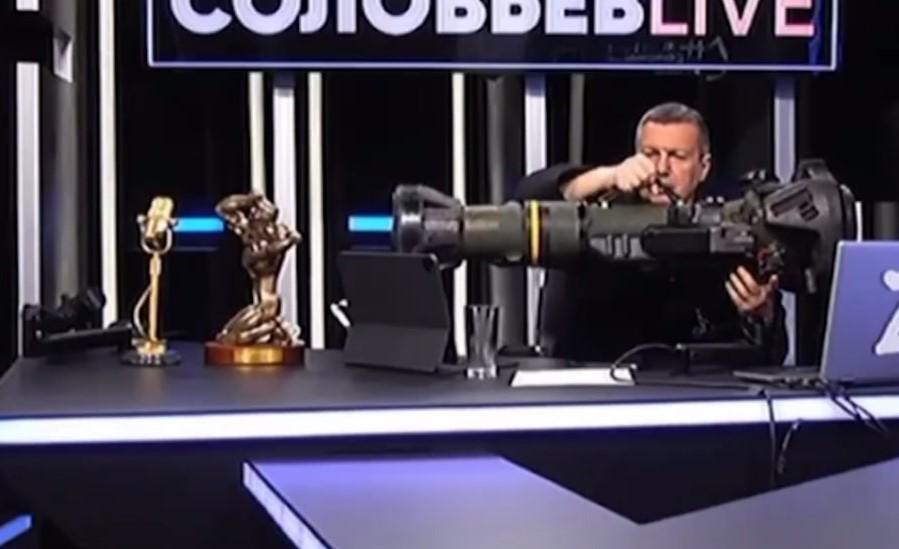 Solovyov advertised the British NLAW / photo t.me/SolovievLive
Top Kremlin propagandist Vladimir Solovyov "lit up" yesterday in Mariupol, surrounded by invaders, boasting of a used tube from the British NLAW anti-tank system.
"Trophy" propagandist showed in his program.
Solovyov twisted the tube in front of the camera from all sides, and then heaped it over his shoulder, convincing his audience that this was a "trophy" NLAW, but without a sight. He was allegedly shot down by the invaders.
"Tynts-tynts, you watch and work," Soloviev commented.
The propagandist is happy to advertise a Western anti-tank complex, not even realizing that this particular instance has already destroyed the armor of the invaders.
Read also:
As UNIAN reported earlier, the FSB accused the SBU of trying to eliminate the propagandist Solovyov. Employees of the Russian intelligence service claim that the members of the detained group allegedly acted on the orders of the SBU, and supervised them from the CIA. At the same time, during the detention, drugs, sawn-off shotgun and more than a thousand rounds of ammunition were allegedly found in people.
At the same time, the Security Service of Ukraine stated that the department had no plans to kill Kremlin propagandist Volodymyr Solovyov. And they called such accusations another "creativity" of the FSB of Russia.
You may also be interested in the news: