The singer Daniela Mercury – Reproduction/Facebook
After the announcement that he received 160 thousand reais to perform at a trade union central event in São Paulo, Daniela Mercury has been subjected to several attacks on social media. The show, held on Sunday, 1st, at the Pacaembu stadium, was attended by former president Lula, who gave a speech on the occasion.
The payment of the fee, published by Folha de SP, generated revolt on the part of the followers, since an alleged contract with the São Paulo City Hall was posted on Bolsonarista networks. This Wednesday, 4th, when asking young people to remove their voter registration, the singer received a flurry of comments about her participation in the event in São Paulo.
A follower wrote: "Daniela, help me here to understand something, please? At the showmice on Sunday you said you never received money from the government. But we saw several documents saying the opposite, via Rouanet, and now by the São Paulo City Hall. Did those payments really happen? We are confused".
In addition to Daniela Mercury, Dexter Oitavo Anjo, Francisco, el Hombre, DJ KL Jay and Racionais MC's performed. The singer has yet to comment on the matter.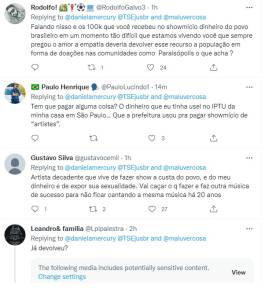 Comments on Daniela Mercury's Twitter page Reproduction/Reproduction Continues after advertising