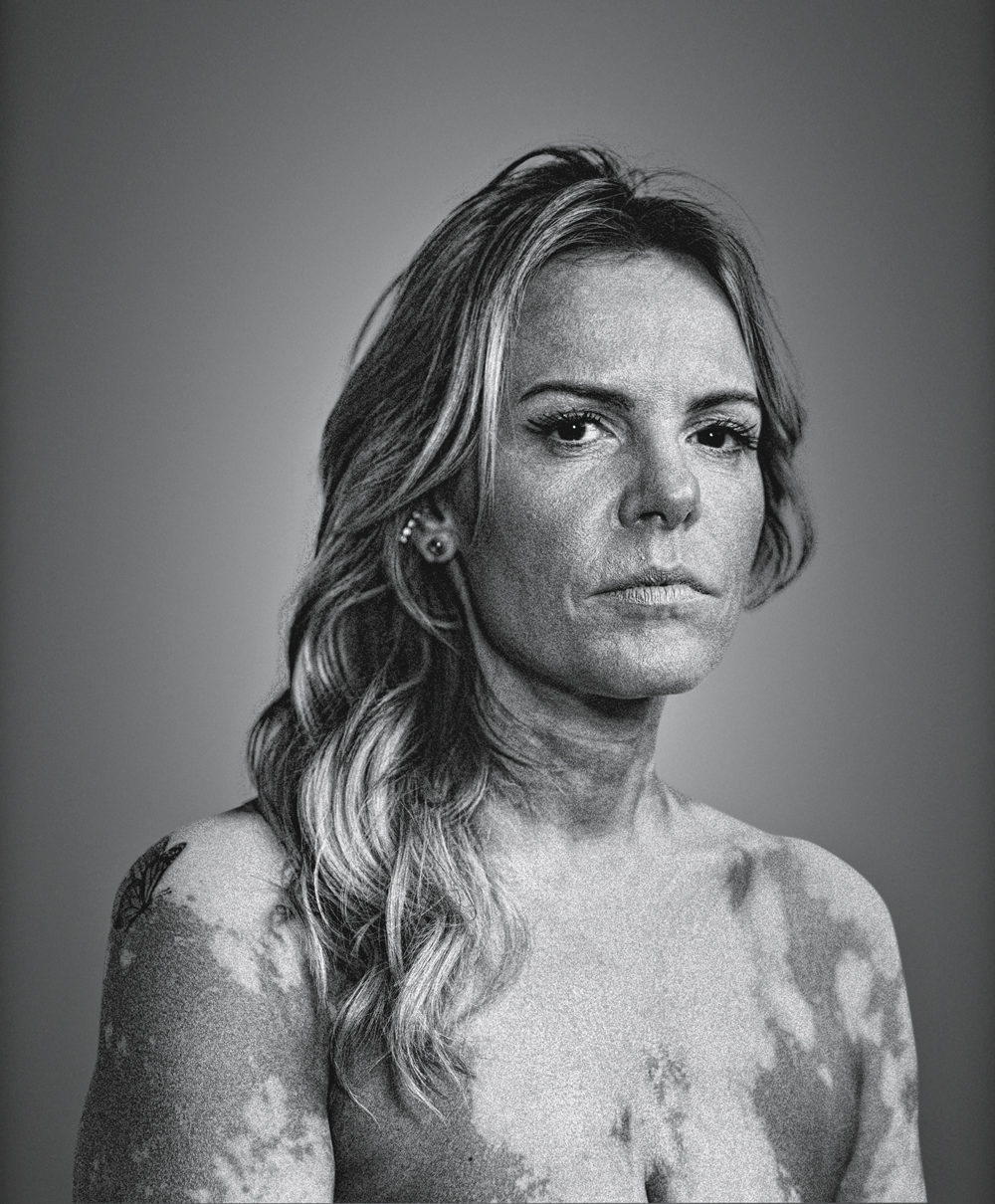 Milena Satyro – Alex Takaki/.
The first whitish spot appeared on my right leg when I was 27 years old. I had gone to the beach a little earlier and I thought it was ringworm. When I looked for a dermatologist, she told me it was vitiligo, an autoimmune disease that has no cure. I was desperate when I heard this. I looked for other doctors and the diagnosis was the same. I had started modeling at the age of 14 and aesthetics have always been important to me. I'm very vain. But until then, the spots were in areas of my body that weren't showing. However, after a while, I spent a few days on the beach and saw that they had appeared on my hands, on my face, all over my body. It was completely stained. I went into shock. I looked in the mirror and didn't recognize myself. I felt very scared and the lack of information was absolute. I tried to do all the treatments possible and I used what was at hand to hide the spots without pigmentation. I used self-tanner and painted myself all over, in addition to listening to what people said to me in the hope of finding something. A lot of people stopped me in places to talk about things that would have been effective. Once, a young man saw me on the beach and told me that he had been cured with an herbal potion prepared by a woman in Mato Grosso. Later, I discovered that a lot of people used these herbs and ended up having serious liver problems because of it.
It is very cruel what happens to those who have vitiligo, mainly because of ignorance about the disease. A lot of people see you on the street and poke each other, point in your direction, just stop you and ask what it is. Patients end up not leaving the house, children and adolescents are bullied. Is very sad. The fact is that vitiligo pain is lonely. Sometimes we hear things like "if the disease doesn't kill, then it's ok". I was able to accept what was happening to my body during a long and complicated process. I took a deep dive to understand and overcome the situation. Now I love myself the way I am and I think I'm a better person. I am 42 years old, I am a businesswoman and 70% of my body is depigmented. Whenever I go through a situation associated with the disease, I use it as an opportunity to transmit information. Last year, when I got into a pool, a child in the water yelled at their mother that they had to get out. The pool stopped and everyone looked at me. I insisted on calling the child and explaining the condition. She asked if she could touch me. She was afraid it was contagious. When she said the disease is not contagious, she called her mother so they could both take a closer look at my body. I spoke in a voice loud enough that everyone nearby could hear.
It's easy to understand how important it is to give people information about skin diseases, which need to be more publicized. When everyone understands what it's about, everything goes more smoothly. Today, I work to provide guidance and knowledge through the Uma Questão de Pele project, whose objectives are to provide information, stories and services to those who have the disease and contribute to respect for diversity. Together with the brothers Marília and Fábio Meirelles, we made a short film — Shed Some Light, Jogar Luz, in Portuguese — that just premiered and features people telling their stories. I also struggle to set June 25 as National Vitiligo Day. It is the day of death of Michael Jackson, who had vitiligo. A day dedicated to the disease will give more visibility to the topic. The more they know, the less prejudice there will be and we will have a more empathetic society.
Milena Satyro in a statement given to Cilene Pereira
Published in VEJA of May 4, 2022, issue no. 2787
Continues after advertising
Copyright © Abril Mídia S A. All rights reserved.
Quality and reliable information, just one click away. Subscribe SEE.