Bulgur is a tasty and healthy porridge that is very easy to prepare.
Bulgur is a very popular cereal in Eastern countries, which can often be seen in Ukrainian supermarkets. Many buyers are attracted by its price – bulgur is cheaper than buckwheat and other familiar cereals. UNIAN will tell you how to properly cook this exotic porridge and what to cook from bulgur.
How to cook bulgur
Porridge will be much tastier if bulgur is fried in a dry frying pan for 4-5 minutes before cooking. Then the dish will acquire a light nutty flavor. Bulgur does not need to be washed.
It takes twice as much water to boil bulgur as cereals. Pour a glass of bulgur with 2 cups of hot water. Add salt and stir. Cook the bulgur on a low heat under the lid for 15-20 minutes. It is not necessary to stir it during cooking.
Bulgur with chicken and vegetables
Bulgur – 200 g. Chicken fillet – 200 g. Water – 450 ml. Carrots – 1 pc. Onions – 1 pc. Garlic – 2 cloves. Tomato paste – 2 tbsp. – 2 tbsp. l. Salt, pepper, herbs to taste.
Cut the onion into cubes, grate the carrots, cut the chicken fillet into medium pieces. Put carrots, onions and chicken in a pan with vegetable oil. Fry for 7 minutes over medium heat. Pour bulgur over chicken and vegetables. Add tomato paste, spices, herbs as desired. Pour in water and bring to a boil. Reduce heat to low and simmer everything together for 20 minutes. At the end, add chopped garlic.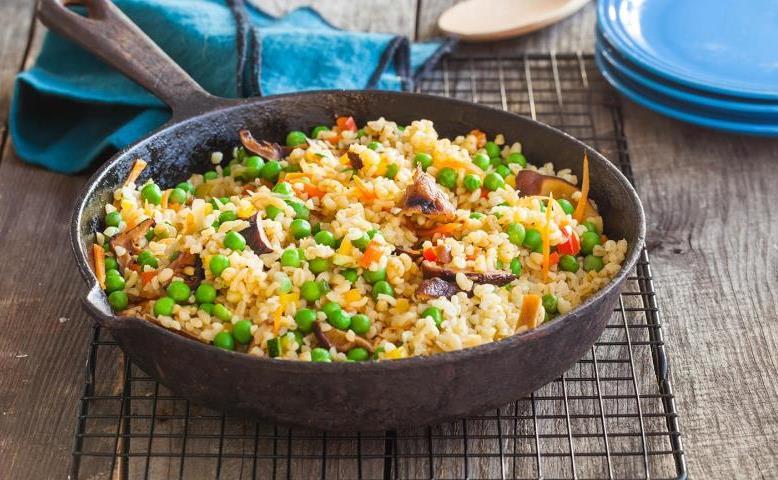 Dishes from bulgur / photo gastronom.ru
Salad with bulgur
Bulgur – 150 g. Tomato – 3 pcs. Parsley to taste. Olive oil – 3 tbsp. Lemon juice – 1 tbsp. Mint – a small bunch.
Boil bulgur until tender and set aside. Cut tomatoes, parsley and mint, mix with bulgur. Salt and pepper the salad, season with lemon juice and olive oil. Put in the refrigerator for 2 hours.
You may also be interested in the news: