Average annual deforestation in the Bolsonaro government is lower than the average rate of the Lula Victor Moriyama government.
In the first three years of Jair Bolsonaro's government (2019 to 2021), the average annual deforestation in the Amazon was 11,400 square kilometers. This is an increase in relation to the government of Dilma Rousseff (5,900), but it represents a lower rate than the annual average recorded in the governments of Fernando Henrique Cardoso (19,000) and Lula (24,000).
The survey carried out by Inpe was published on the PT website two weeks ago. This last Thursday, the same website highlighted data showing that Brazil was a leader in 2021 in the loss of tropical forests. In the text, the party highlights the work carried out by the US organization Global Forest Watch and highlights the responsibility of the current government for the destruction of forests. The PT also claims that the fight against deforestation in Lula's government was a legacy of the party.
It is a fact that the average annual deforestation rate in the Amazon has been rising under the Bolsonaro government. In 2019, there were 10,100 square kilometers of destruction. In 2020, there was a significant increase and, last year, it was 13.2 thousand square kilometers. In the first three years of the Lula government, an average of 24,000 kilometers were deforested, 105% more than in the first three years of the Jair Bolsonaro government. The data does not allow celebration, from any government.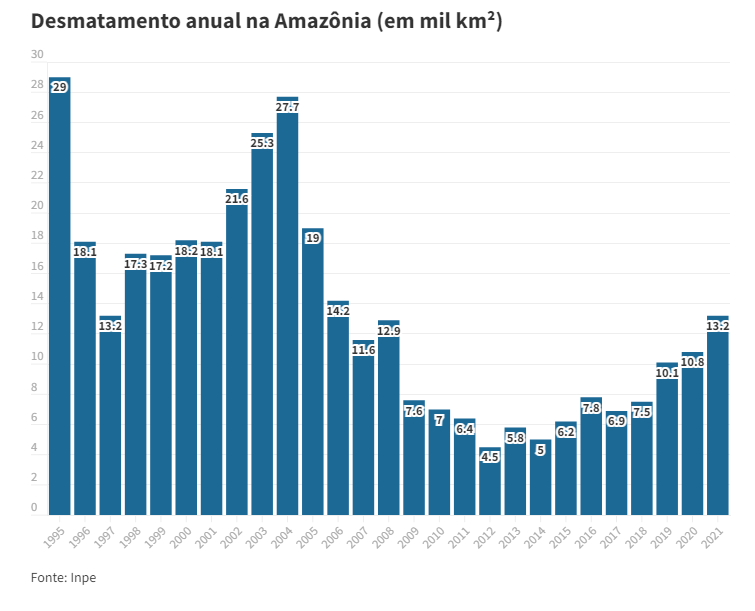 Annual deforestation in the Amazon – Inpe (reproduction: PT website). playback/Continuous playback after advertising