During the Easter festivities, almost half a million visitors flocked to Piazza San Marco, the Rialto Bridge or the unforgettable gondola rides, in search of the perfect selfie to immortalize their passage through Venice. La Serenissima, as the 1,600-year-old Italian city is known, famous for its floating architecture and artistic festivals, remains one of the most popular destinations on the planet. The transit of people in its cinematographic sets — stage of films such as Death in Venice (1971) and 007 — Casino Royale (2006) —, however, has become a subject of controversy. The high flow of tourists could be cause for celebration for the resumption of the economy, but, in fact, it reignited a debate about the harmful effects of overtourism, as the overcrowding of a place without the structure to support it is defined. Excessive tourism, exacerbated by the popularization of low-cost airlines and online accommodation sites, has a number of side effects. As travelers jostle in lines, residents suffer from the demand for public transport and the inflation of rent and food. There are still worrying environmental impacts.
As beautiful as it is fragile, the capital of the Veneto region has been undergoing a galloping process of depopulation. Its number of residents has halved in four decades — it stands at 50,000, one resident for every 590 tourists a year. The drama is real and led Mayor Luigi Brugnaro to unpack drastic measures. Starting in June, at the beginning of summer, Venice will make the first tests of a reservation system for entry into its historic centre. Initially, registration will be free. From 2023, fees between 3 and 10 euros (up to 52 reais) will apply, depending on the number of people circulating (the minimum fee is up to 40,000 visitors). That's right: to enter Venice, just paying. "We will be the first in the world to carry out this difficult experiment. Many already understand that it is the right way", said Brugnaro.
The mayor points out that visitors who stay overnight in downtown hotels already pay a tourist tax of 3 to 5 euros and therefore will be exempt, as are local residents. The charge will be limited to "commuting" tourists, those who do not sleep in the city, or even those who have an unregistered roof. The most controversial part of the plan, not yet confirmed, involves the installation of turnstiles at specific points. "It seems to me to be an acceptable measure, as we have reached a point where it is difficult to even move. Such a serious situation calls for unpopular measures," said Claudio Scarpa, director of the Association of Venetian Hoteliers, to VEJA.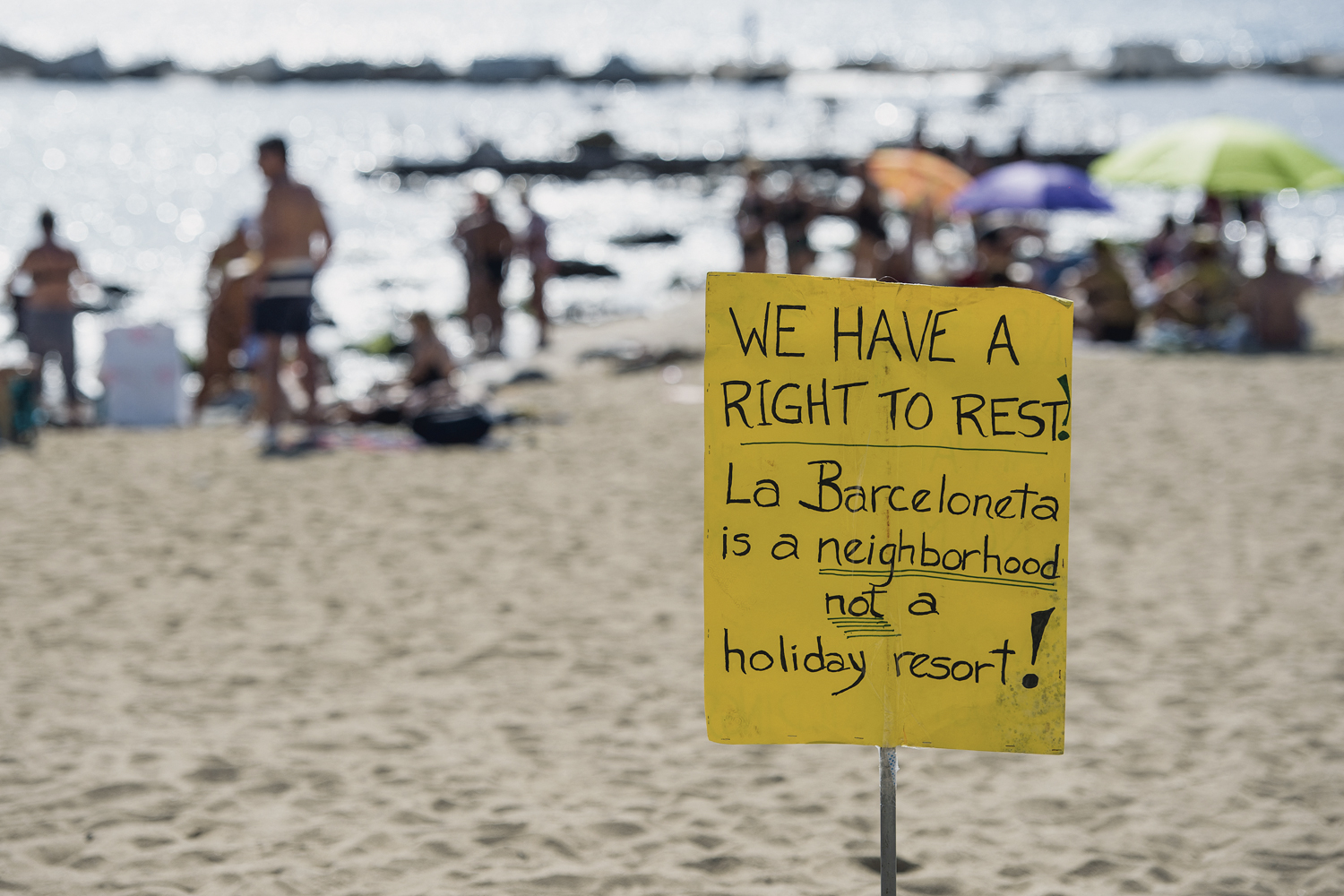 PROTESTS – Posters in Barcelona: "We are a neighborhood, not a resort" – Josep Lago/AFP
Some people see the other side of the coin. Giacomo Salerno, a researcher and activist at the Ocio Venezia group, a residential civic observatory, considers the measure elitist and innocuous. "I don't think officially turning Venice into a theme park is compatible with the urban function of a city," he says. "It's one more way to raise cash, without preventing more people from coming. Venice is not a company, but those who run it see it as the goose that lays golden eggs." He says that other desirable destinations such as Rome and Florence may also adopt extreme measures.
Overtourism is not unique to Italy. According to the UN, the global number of tourists has doubled in fifteen years: it reached 1.3 billion a year and could exceed 2 billion in 2030. Cities like Amsterdam and Barcelona have already adopted more effective (and less controversial) measures, such as limiting the number of beds, both in hotels and in rentals such as Airbnb. In the Dutch capital, tour buses have been banned from some regions and tourist taxes at hotels have been implemented. In the Catalan city, whose tourist presence has grown tenfold in twenty years, protests have taken to the streets. "Don't tell anyone you've been on vacation in Barcelona" is one of the ironic signs pasted on tourist spots like the Sagrada Familia. Is it fair to discourage the presence of travelers? The answer is uncertain and the debate is just beginning.
Published in VEJA of May 4, 2022, issue no. 2787
Continues after advertising
Copyright © Abril Mídia S A. All rights reserved.
Quality and reliable information, just one click away. Subscribe SEE.